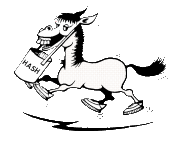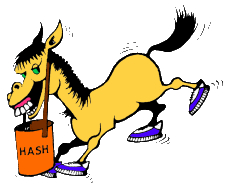 Gloucestershire Gourmets Hash House Harriers
GGH3 run every Thursday at 7pm and many enjoy a meal in the pub afterwards.
Hashers span all ages and abilities. A hash is a sociable fun-run, not a race, but you may end up getting cold, wet, muddy or even lost!
To enquire or find out more why not Contact someone on the 'committee'. GGH3 can also be found on FaceBook (click on link).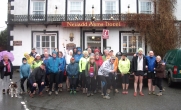 GG Hashes from 1987 to the present
Navigate pages: ⋘First ≪Prev [Runs 1765 ➔ 1776] Next≫ Last⋙ &nbsp &nbsp &nbsp
Run Num
Date
Visit Num
Start Venue
Location
Apres Venue
Turn-out
Run Notes
Hares
1776
Thu 17-Mar-22
5
Clothiers Arms
1 Bath Road, Stroud, GL5 3JJ
As start
38
Joint run with C2H3 & EFMH3. Clear night, shame full moon was too low to be visible! Pub already busy (Chelt Fest) but coped well with extra 70+ hashers.
Stirfry + Goosebumps + Thong + C2H3-hares
1775
Thu 10-Mar-22
1
Ukrainian Social Club
37 Midland Rd, Gloucester, GL1 4UL
As start
33
Appropriate venue given the current war in Ukraine. Winding 5m route in & around Tredworth, with a 'zip-wire' Regroup.
Dyldo + Dr Jeckyll
1774
Thu 03-Mar-22
1
Hop Kettle
4 The Woolmarket, Cirencester, GL7 2PR
As start
32
Mild & drizzly for a pleasing semi-rural run via Stratton. Very good range of beers from local brewery.
Physy Blonde
1773
Thu 24-Feb-22
8
Wheatsheaf
283 Old Bath Rd, Leckhampton, GL53 9AJ
As start
37
Artful trail included climbing (& descending) the ultra-slippery, oft used Daisybank. Pub is good, always has been.
Grey'un
1772
Thu 17-Feb-22
7
Greatfield
next to Morrisons, Hatherley, GL51 3BW
As start
37
Worthy 1st trail from the 'crisp' pair. Loads of arrows & double blobs to, somehow, compress 5m into a tight area.
Wotsit + Twiglet
1771
Thu 10-Feb-22
7
Corner Cupboard
Winchcombe, GL54 5LX
As start
28
Easy to follow, under 4m trail based on a recent C2H3 run. Good beer selection.
Tooth Fairy + Fill My Cavity
1770
Thu 03-Feb-22
4
Clocktower
Cirencester Rd, Charlton Kings, GL53 8EG
As start
35
Flat, fast & super-convoluted, linking practically every back alley/passage in the area! Tons of flour.
Cracker + Miss Pillsbury
1769
Thu 27-Jan-22
2
Englands Glory
66 London Rd, Gloucester, GL1 3PB
As start
35
Poncho's long awaited 1st lay. A DS near St Oswalds ruins & a quick foray into Alney Island. Decent beer & grub in improved pub.
Oddjob + Rosalind + Poncho
1768
Thu 20-Jan-22
11
Royal George
Birdlip, GL4 8JH
As start
25
Quite short: to the bottom of the shiggy woods & back up, then off-piste a few times to confuse the FRs.
Fanny + Ratatouille
1767
Thu 13-Jan-22
11
Red Hart
Blaisdon, Forest of Dean, GL17 0AH
As start
28
Hare's 200th & final run b4 he's back in NZ. Short & freezing trail in soggy woods, with a welcome port stop near the end.
Mudguard
1766
Thu 06-Jan-22
4
The Ridge
Windyridge Rd, Cheltenham, GL50 4RA
As start
33
Very muddy owing to horrible afternoon, but good trail (5m) all the same. Free sausage & chips from the pub not bad at all.
Magpie + Cripplecock
1765
Thu 30-Dec-21
9
Old Elm Inn
Churchdown, GL3 2ER
As start
28
3.5m run in 15degC mild weather and extreme slippiness (as expected on Chosen Hill). Drink stop at the top. Very busy pub, decent grub.
Physy Blonde + Florence