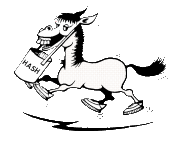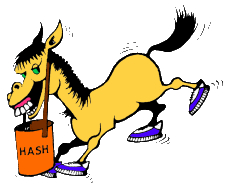 Gloucestershire Gourmets Hash House Harriers
GGH3 run every Thursday at 7pm and many enjoy a meal in the pub afterwards.
Hashers span all ages and abilities. A hash is a sociable fun-run, not a race, but you may end up getting cold, wet, muddy or even lost!
GGH3 can also be found on FaceBook (click on link). To enquire or find out more why not Contact someone on the 'committee'.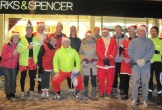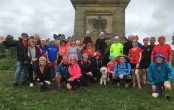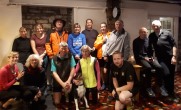 GG Hashes from 1987 to the present
Navigate pages: ⋘First ≪Prev [Runs 1782 ➔ 1793] Next≫ Last⋙ &nbsp &nbsp &nbsp
Run Num
Date
Visit Num
Start Venue
Location
Apres Venue
Turn-out
Run Notes
Hares
1793
Thu 30-Jun-22
2
Tipputs Inn
off A46, Tiltups End, nr Horsley, GL6 0QE
As start
24
Nicely crafted example from veteran hare. Not too long, not too predictable. Glad this pub has had 3 hashes so far this year.
Bluerinse
1792
Thu 23-Jun-22
9
Royal Oak
St Mary's St, Painswick, GL6 6QG
As start
36
Good hash location for under 4m, hilly trail, past the Rugby Club & Sheephouse. Mr Sheep's last trail ? Doubt it.
Mr Sheep + Dyldo
1791
Thu 16-Jun-22
1
Village Club
Stanton, nr Broadway, WR12 7NE
As start
24
Very Summery, scenic loop to Buckland and back on low-level (mostly) slopes. The Club is a worthy first-time venue.
Physy Blonde + Miss Pillsbury
1790
Thu 09-Jun-22
10
Butchers Arms
Sheepscombe, GL6 7RH
As start
31
Excellent wooded trail despite mist & drizzle. Under 4m. Quality pub & food, although table service was compulsory.
Carloss + Darling
1789
Thu 02-Jun-22
1
Car park
off B4066, Selsley Common, nr Stroud, GL5 5LL
As start
29
Platinum Jubilee picnic run with C2H3. Caught the best weather. Tough scenic route. (Turnout incl C2 more like 60.)
C2H3-hares
1788
Sun 29-May-22
1
GWSR Station
Toddington, nr Winchcombe, GL54 5DT
As start
20
GG Away Day train trip, from Prestbury Racecourse. Short & sweet run from Toddington. Beer festival stop at Winchcombe sta.
Hercules + Slippy Girl
1787
Thu 26-May-22
8
Golden Heart
off A417, Nettleton Bottom, nr Birdlip, GL4 8LA
As start
27
We had to do a live detour to appease an irked landowner. On In was same as the On Out. Pub's log fire was very cozy on a cool evening.
Ratatouille + Nelson
1786
Thu 19-May-22
1
Huntsman House Inn
Off A38, Falfield, nr M5 J14, GL12 8DF
As start
23
Nifty trail for Long, Med & Short in new area for GGs. Long was 6+ miles(!) past a lone wind turbine. Amazing snack stop at hares' house, largely home-made.
Wanda + Plodders
1785
Thu 12-May-22
8
Royal Exchange
Hartpury, GL19 3BW
As start
33
Never strayed far for this dry 4m stomp. Why were the Walkers coming the opposite way?? Down-downs by newly installed vice-RA, Radar.
Wingnut + Goldilocks
1784
Sat 07-May-22
2
Hotel Neptuno
San Pedro del Pinatar, Murcia, Spain
As start
27
Away weekend, 2nd hash.
Cripplecock + Magpie
1783
Thu 05-May-22
1
Hotel Neptuno
San Pedro del Pinatar, Murcia, Spain
As start
41
Away weekend, 1st hash. Back in the UK: Bluerinse's 'joint' walk from the Old Badger Eastington 7pm (12 attendees).
Magpie + Cripplecock + Bluerinse
1782
Thu 28-Apr-22
5
Prince Albert
Rodborough Hill, Stroud, GL5 3SS
As start
25
Cold. Well marked trail, down to disused R/way line, along to S.Woodchester, then up through Kingscourt & past the folly. Beer festival ales on offer.
Oddjob